Going to Focus Day 2015
Focus Day 2015 was wonderful experience for all the parents and children who were able to attend. It was also a great showing for public school supporters. We're told is was a record for attendance at Focus Day. We're proud to say that Salmon Bay was one of the most well-represented schools in the entire State, let alone Seattle.
The day started off with a pleasant charter bus ride down to Olympia with the Seattle PTA. Upon arrival, the Washington State PTA had reserved the Columbia room for organizing, sign making, and meeting. We took a small tour of the capital building and were able to see the Senate chamber and get to know more about the impressive building.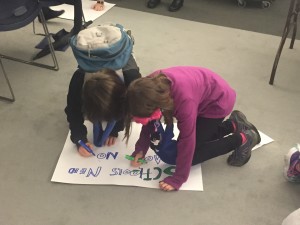 The first meeting of the day was with Senator Jeanne Koel-Wells. We met her in a small meeting room, which we filled, near her office. The hand-written letters from Kim's 2nd grade class made an immediate impact. Senator Koel-Wells allowed nearly all the parents to address her with their concerns about school funding. As could be imagined, she was very sympathetic to our message.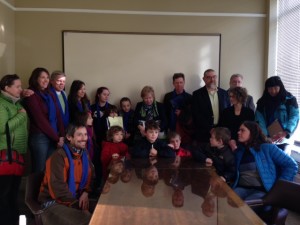 After lunch we gathered on the Capital steps for a rally with all the other Focus Day participants. The crowd filled the steps and the children had fun holding up their signs and cheering.


In the afternoon we met with Representatives Reuven Carlyle and Gael Tarleton. More familiesjoined our 36th District group, expanding our number to to over 20. Reuven and Gael were equally impressed with the copies of the letter we presented them. Like Senator Kooel-Wells, they were also very sympathetic to our concerns. Representative Carlyle explained some of the difficulties with our current tax structure in the state and described how he's actively working on revamping the system to better meet our needs, including funding education.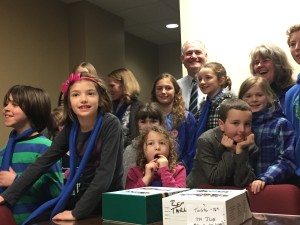 We had a wonderful experience, met some great supporters from around the state, and put faces to very important issue. If we continue to stay involved and keep attention focused on school funding it will definitely have a big impact. Please spread the word and email your representative!

Thank you for your support.
FOSB Legislative Committee