When caring is not enough
From fundraising to volunteering in the classroom and everything in between, you would be hard-pressed to find a community that supports a school more whole-heartedly than we support Salmon Bay K-8.  Yet even with all of our hearts and wallets put together, we do not have the resources to create classes of a size that enable teachers to focus more on teaching than they do on managing their classrooms.
There is one reason for this: Washington State is and has been chronically underfunding education. In 2013, as part of the McCleary case, the state  identified targets* that it said would represent steady progress towards fully funding education, as required by the state constitution. You need only take a look at the attached image to see how far short of that target we are falling.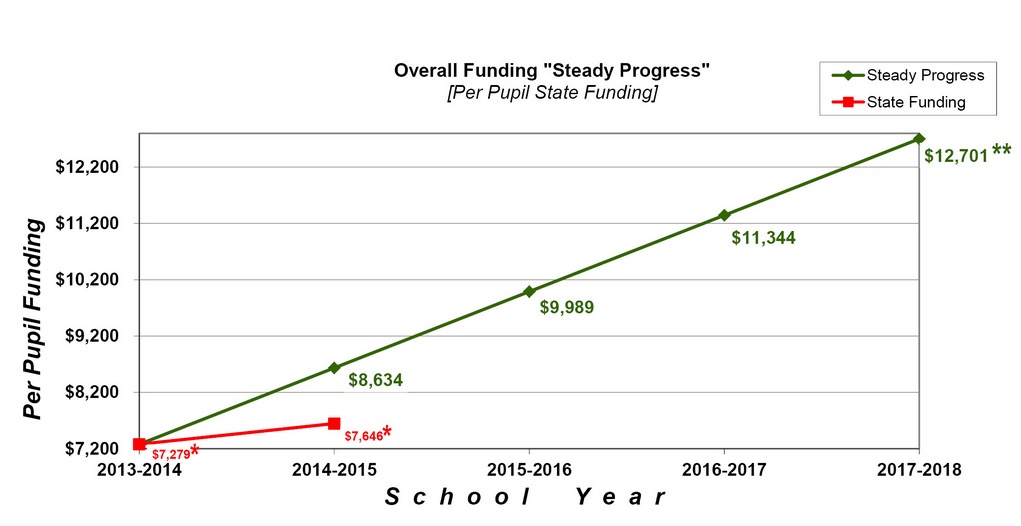 There is only one way out of this downward spiral: The state legislature must increase funding for education at a rate that even it has agreed represents steady progress towards ample funding.
Supporting our representatives
Salmon Bay K-8 is in our state's 36th Legislative District. We are represented in the House by two capable, dedicated legislators: Reuven Carlyle and Gael Tarleton.  Both care enough about this issue, and about us, to spend an evening discussing how we can help them do what they must do in order to resolve the crisis in education funding.
Representative Carlyle is coming the first Monday night after Thanksgiving, November 30th. Please save the date.
Representative Tarleton is coming this Monday night, 16 November. We'll meet at 6:45 PM in the library for a short social quarter-hour, then sit down to talk about how we're going to fix this. Please join us!

Representative Tarleton is on the following committees:

Technology & Economic Development (Vice Chair)
Higher Education
Rules
Transportation
In the meantime, please send any questions you would like to ask, or issues you would like to raise, to us at FOSBLegCom@gmail.com.

* As reported by Network for Excellence in Washington Schools. Targets are based on "prototypical school" as defined by ESHB 2261. During the McCleary trial, the State assured the Court that the 2009 education reform and funding law, ESHB 2261, is the promise that K – 12 public education will be fully funded by 2018.