Friends of Salmon Bay (FOSB, pronounced FOZZ-bee) is our school's parent/teacher organization. FOSB is made up of the parents, guardians and caregivers who support students at home, as well as the staff, teachers and administration who support students while at school. We all work together to build and sustain the unique programs and activities that create the Salmon Bay experience.
PTO vs PTA
FOSB is a PTO (parent teacher organization), not a PTA (parent teacher association). PTAs require parents to pay dues and apply for membership with the national PTA organization. Not FOSB! As an independent PTO, FOSB requires no paperwork or dues. If you're an adult with a student at Salmon Bay, you're automatically a member of FOSB with an equal voice and vote. (Hey, welcome! We're glad you're here!)
FOSB's Purpose
FOSB's purpose is to support and supplement the educational environment established and overseen by the educators, staff members and administrators who teach and interact with the students of Salmon Bay School. To be specific, we:
Raise funds to fill programmatic gaps and work collaboratively with parents, staff and administration to develop a budget that benefits all students and helps us achieve our collective goals.
Recruit volunteers to assist in the classroom, support our enrichment programs, and fulfill the many needs of our school community so that we continue to be a thriving school in which children grow and learn.
Work to ensure the collective parent voice is heard at school and within the district, and provide feedback to our staff and administration about issues that impact our students.
Create and strengthen community connections, provide opportunities for parent education, and help build relationships between families and staff.
FOSB commits to being an anti-racist organization. Learn more here.
What does FOSB actually do?
It's a long list! The bulk of our fundraising goes to:
A generous annual grant to Salmon Bay School that helps to close the gap in funding between what the district provides and what it costs to staff the school, purchase classroom supplies, and enhance curriculum.
Scholarships to ensure every student has access to our school's unique programs, such as WEP (Winter Enrichment Program), camps for every grade level, and co-curricular field trips that extend classroom learning.
Community building activities for students and families.
Committee work that fosters diversity, inclusion and education within our school community.
Here are more things that FOSB fundraising has helped to support.
---
Donations to FOSB are tax deductible.
Nonprofit Status: 501(c)(3) nonprofit organization
Legal Name: Friends of Salmon Bay
Address: 1810 NW 65th St, Seattle, WA 98117
Tax ID Number: 91-1622350
---
Committees & Activities
Whether you want to work on one event or take on a lead role for the year, FOSB committees are a great way to get involved with our school.
Racial Equity Learn about FOSB'S Commitment to anti-racist work
Meetings & Minutes
FOSB meets monthly during the school year. Come join the conversation!
Fundraising
FOSB helps close the gap between the programming that is funded by the school district and the programming we want our students to have. The way we do this is pretty unique to Salmon Bay School
l: We ask adults, not students, to fundraise.
Volunteering
FOSB is volunteer-powered. We rely on the energy and enthusiasm of volunteers to help with our school's many events and activities.
Officers & Directors
If you have a student enrolled at Salmon Bay School, you're automatically a FOSB member. No paperwork or dues are required. FOSB also provides opportunities to get more involved by electing directors and officers.
Budget & Bylaws
Like any organization, FOSB has paperwork. Read our bylaws, annual operating budgets, and more.
History
Learn about the history and background of Salmon Bay School, FOSB, and our building.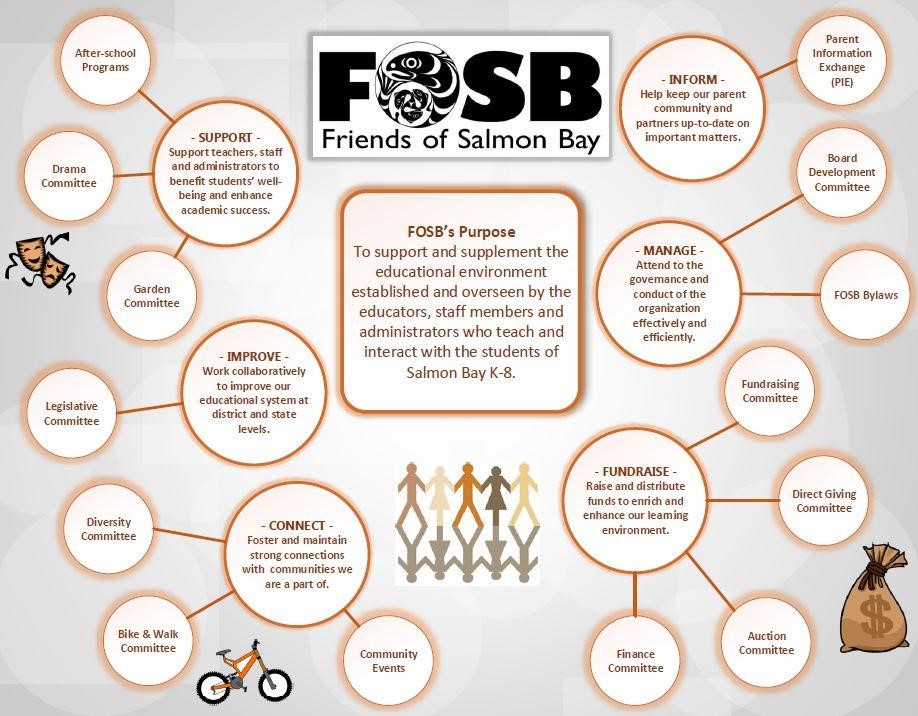 ---