FOSB's purpose is to support and supplement the educational environment established and overseen by the educators, staff members and administrators who teach and interact with the students of Salmon Bay K-8.
FOSB raises funds to fill programmatic gaps and works collaboratively with parents, staff and administration to develop a budget that benefits all students and helps us achieve our collective goals. 
FOSB recruits volunteers to assist in the classroom, support our enrichment programs, and fulfill the many needs of our community so that we continue to be a thriving school in which children grow and learn. 
FOSB works to ensure the collective parent voice is heard at school and within the district, and provides feedback to our staff and administration about issues that impact our students.
FOSB creates and strengthens community connections, provides opportunities for parent education, and helps build relationships between families and staff.
Committees & Activities
Whether you want to work on one event or take on a lead role for the year, FOSB committees are a great way to get involved with our school.
Meetings & Minutes
FOSB meets monthly during the school year. Come join the conversation!
Volunteering
FOSB is 100% volunteer powered. We rely on the energy and enthusiasm of volunteers to help with our school's many events and activities.
Officers & Directors
If you have a child at Salmon Bay, you're automatically a FOSB member. FOSB also provides opportunities to get more involved by electing directors and officers.
Budget & Bylaws
Like any organization, FOSB has paperwork. This is where we keep some of it.
FAQ (coming soon)
Have a question you want answered in the FAQ? Send it to us!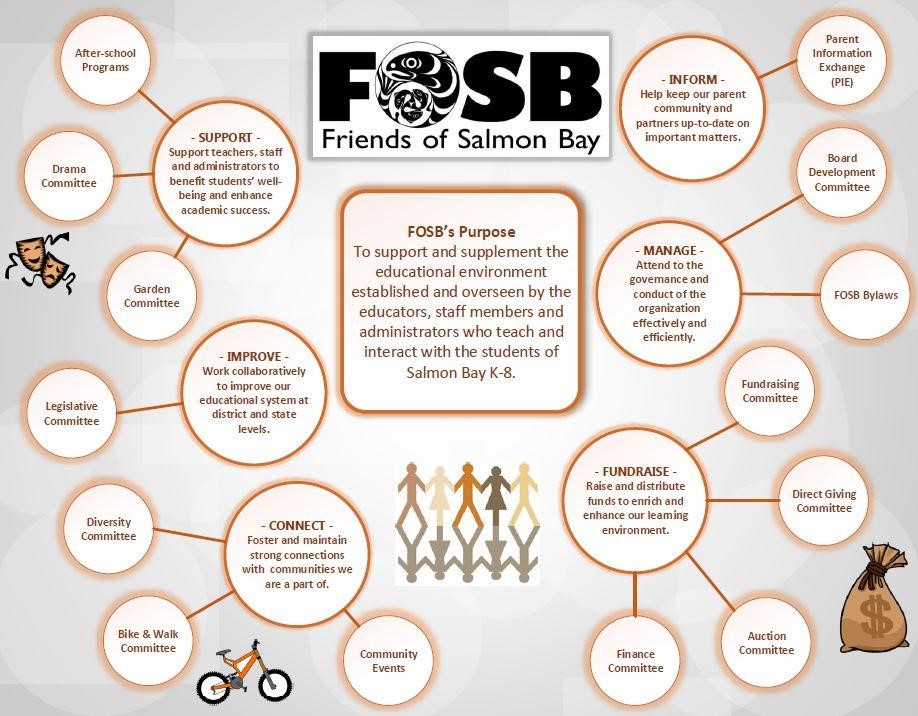 ---